Avantio Unified Inbox
Real-Time Conversations Through a Single Platform
Guests. Owners. Service providers.
Get started now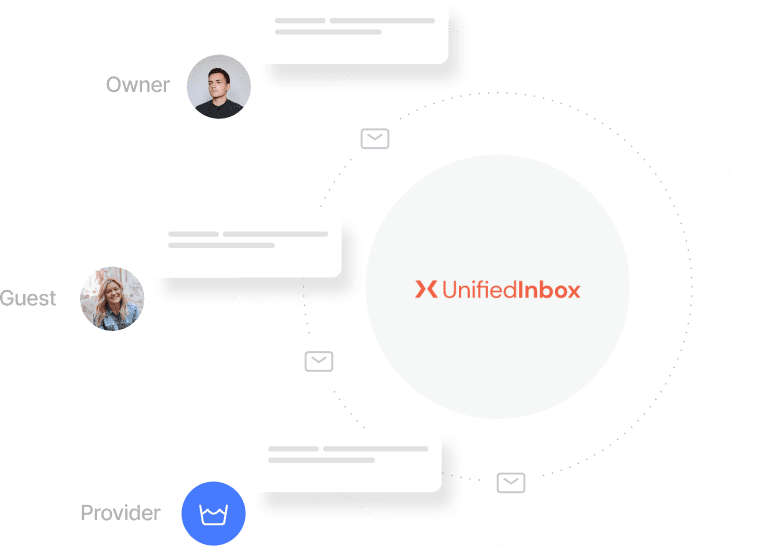 Communicate with all stakeholders in real-time from a single platform
Organize
Manage all your messages from a single tool accessible to your entire team with the Unified Inbox.
Offer a communication channel to your guests, providers, owners and portals and start communicating in a more effective way.
Optimize
Optimize the time you spend looking for messages within different portal extranets or in conversation threads in your inbox.
Search your historical messages quickly and easily.
Convert
Increase your conversion by offering excellent customer and owner service.
Solve any enquiry instantly with the new Avantio Unified Inbox, offer an immediate solution and generate new opportunities for your business.
Benefits that Avantio Unified Inbox brings to your business
Increase your conversion
Get more bookings by instantly responding to new enquiries.
Immediate responses
Quickly respond to guests, suppliers, and owners and resolve any queries in minutes with our Unified Inbox.
Keep a record
Easily find messages associated with your bookings by filtering by the reservation number, date or status.
Find out how our tools can transform your business
Our Unified Inbox integrates seamlessly with our Channel Manager
Proud and preferred partners of Airbnb, Booking.com, and Vrbo.
Integrations with more than 50 global, local and niche platforms.
Automates processes from start to finish
More channels, more bookings, less work
Payment software for efforless transactions and easy communication
With Payments by Planet, set up adaptable, transparent and secure payments, automate processes and notifications, and improve guest experience.
Instant communication with guests, owners, and suppliers
Immediately respond to your guests while checking in with owners and suppliers on the same platform. With Avantio Unified Inbox Keep messages organized with a single inbox.
Ready to automate communications? Discover Avantio's Unified Inbox.